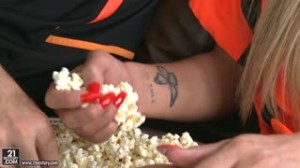 14-07-2014 update
Model: Chelsey Lanette
Network: 21Sextury
Site: Pix and Video
Title: Goal Celebration

Story: Toby and her dutch girlfriend, Chelsey didn't miss a single match during the World Cup, but they mostly supported and cheered for Netherlands. When their favorite team kicks a goal, Chelsey goes totally crazy. She jumps into Toby's lap and fucks his brain out. It is a decent way to celebrate, don't you thin?








Picture preview (small size):